by dag on Jun.13, 2009, under Uncategorized
Warning
: Illegal string offset 'title1' in
/home3/dagfooyo/public_html/blog/wp-content/plugins/wp-original-source/multiple-source.php
on line
151
Warning
: Illegal string offset 'source1' in
/home3/dagfooyo/public_html/blog/wp-content/plugins/wp-original-source/multiple-source.php
on line
152
Warning
: Illegal string offset 'date1' in
/home3/dagfooyo/public_html/blog/wp-content/plugins/wp-original-source/multiple-source.php
on line
153
This past weekend I flew south to the island of Koh Phangan, for the world-famous Full Moon Party. While I was there I figured I'd get a taste of the islands, so I signed up for day-long trek. That morning at 9 AM a truck picked me up from the hotel along with all the other tour-goers. First stop was an elephant ride. We climbed up into this tower while the guides brought over an elephant for each of us. Well, it was two to an elephant actually. Here's me with Neil, a Scottish guy doing a similar round-the-world trip to mine: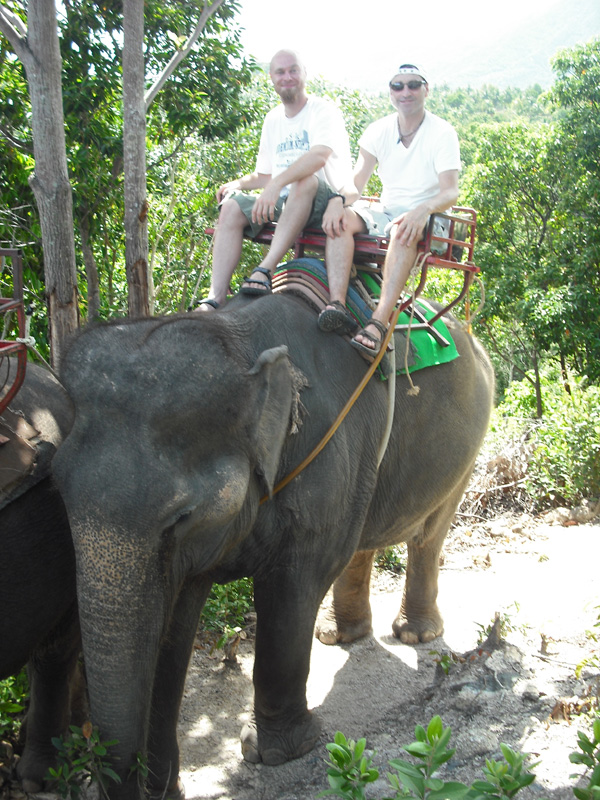 As you can see I've buzzed my head in an attempt to keep somewhat cooler in the Thai heat. Matches the elephant's, don't you think?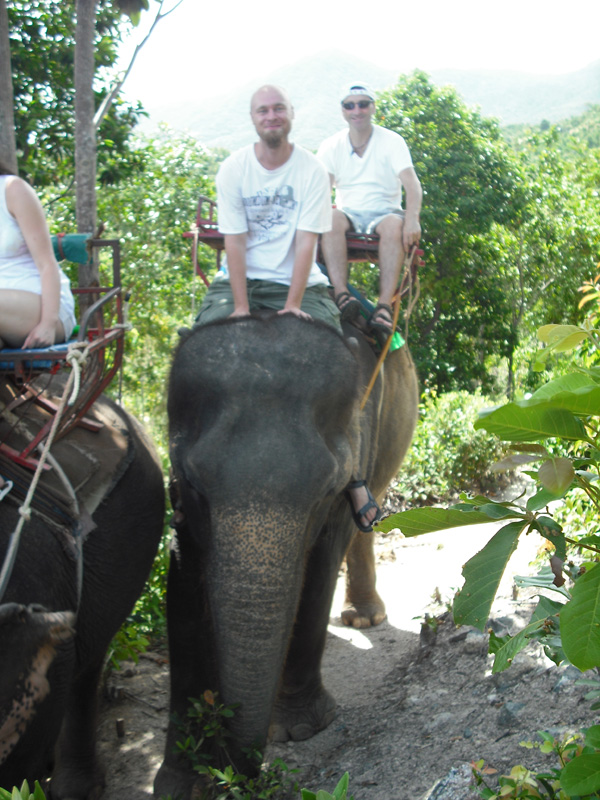 The trek was just up one hill and back, but that was OK. Riding an elephant is fun, but not really an efficient way to get around. For every step she took, the whole seat did this sort of wobbling rotation, tipping a different way as each leg moved. Lots of fun!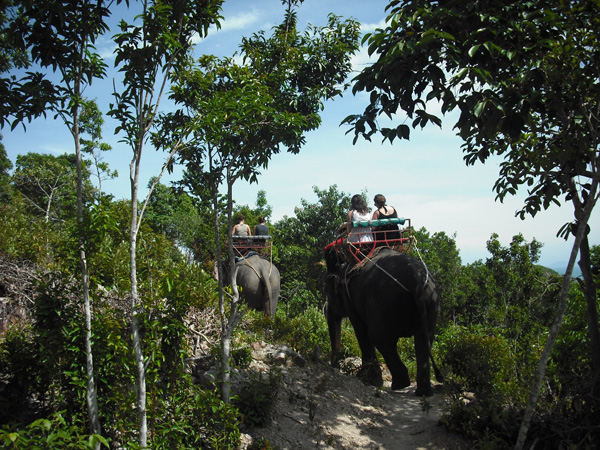 The elephants were very friendly, and we got to commune with them a bit after the ride.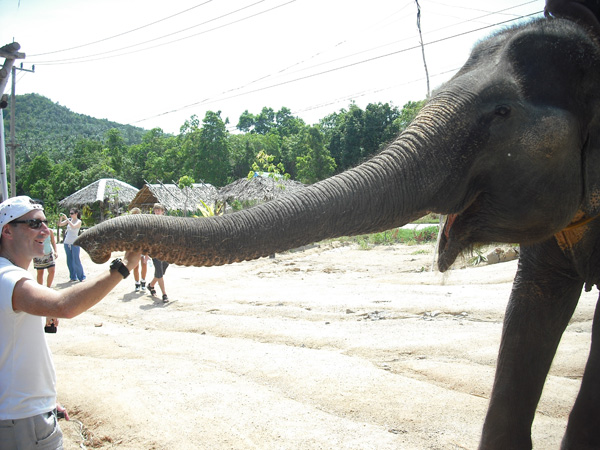 After that, we chilled at the tour's base camp and had tea and watermelon. And got to meet their resident monkey. Her name was one syllabic and monkey-ish. Sook, I think. Neil seems to have a way with animals.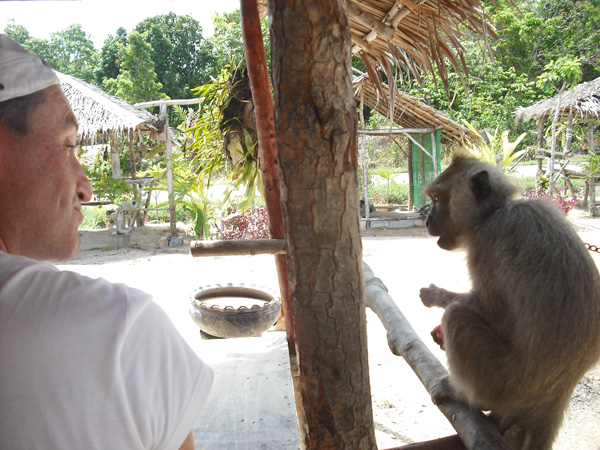 We fed her pieces of watermelon. Isn't she adorable?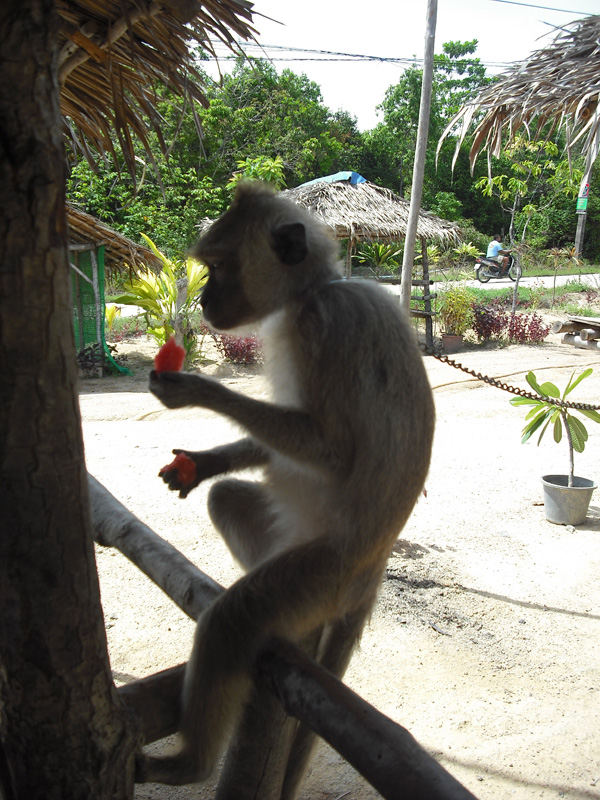 Of course after she'd eaten, she got mischevious and started trying to steal whatever she could get her hands on – reaching into pockets, grabbing at hats. Monkeys are awesome. But naughty. Finally she grabbed somebody's day bag and made off with it. Being closest, I dashed over and attempted to retrieve the bag. Her prize threatened, she screeched and jumped into my face! It was just a warning, though, she didn't draw blood. I was able to snatch the bag back after that. But how cool is that? I got attacked by a monkey! Monkeys are awesome.
Next, we boarded a boat and motored around the island to a secluded coral reef. They passed out snorkels and we swam around. This is something I've always wanted to do – I've seen so many photos and videos of coral reefs but never actually visited one before. I floated above the amazing fractaline patterns and watched brightly-colored fish dash in and out and swim by. It was amazing.
Our next stop was a sand beach for lunch and swimming. The meal was curry, noodles and rice, typical Thai fare. It was scrumptious! The beach was lovely. Being a New Englander, I'm used to ocean water being super cold, even in summer. It was such an experience to swim in an entire bay the temperature of bath water 🙂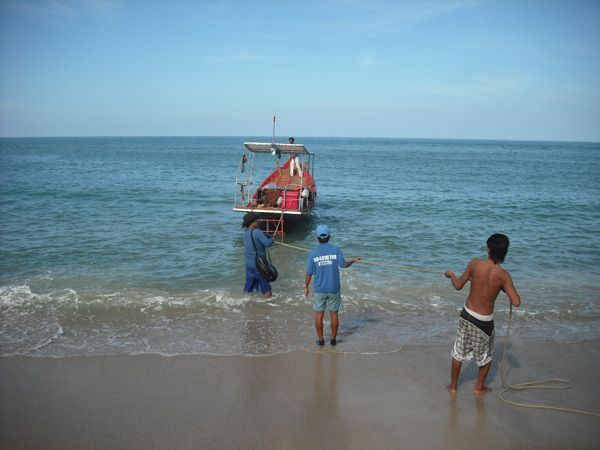 Here you can see the boat that took us around the island. Here our guides are pulling it into shore so we can board.
The final leg of our journey took us to another beach, this one for a hike up into the hills to see a waterfall. The hike was fun, not much of a path, we had to climb a lot of rocks and cross the river several times. It wasn't the usual spot the guides took people to (choppy waves on the other side of the island had changed the itinerary somewhat) so they made some mistakes, and sent people the wrong way a couple times. At one point the group got split up and half the people had to wade waist-deep across the water to get to the path again 🙂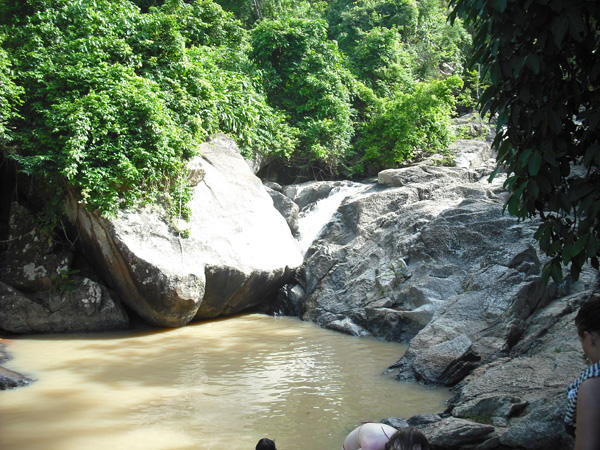 The waterfall was nice, but not a patch on some of the ones in Vermont. When we arrived one of the guides said "Who wants to jump from rock?" And he pointed to a cliff to one side of the waterfall – you can see it to the left in the photo above. Well, jumping off cliffs into swimming holes is practically a regional sport in VT, so of course I volunteered. The guide showed me where to climb around to the top of the cliff, and passed me a knotted rope to climb out and down to the jumping place. Then he dove off, and I followed a moment later. It was fun, but the jump was only about 15 feet up, after all that. Bah. I'm used to 40 foot jumps 🙂
Still, the place was just beautiful. There's a cave in the cliff wall where the water from the falls emerge. So you can swim up into the cave and be surrounded by falling water on all sides.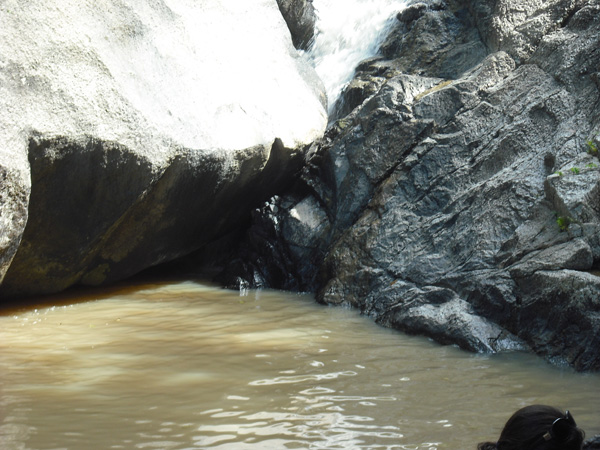 We all swam around the pool for a while. I floated onto my back and gazed up. The sky above was filled with dragonflies.